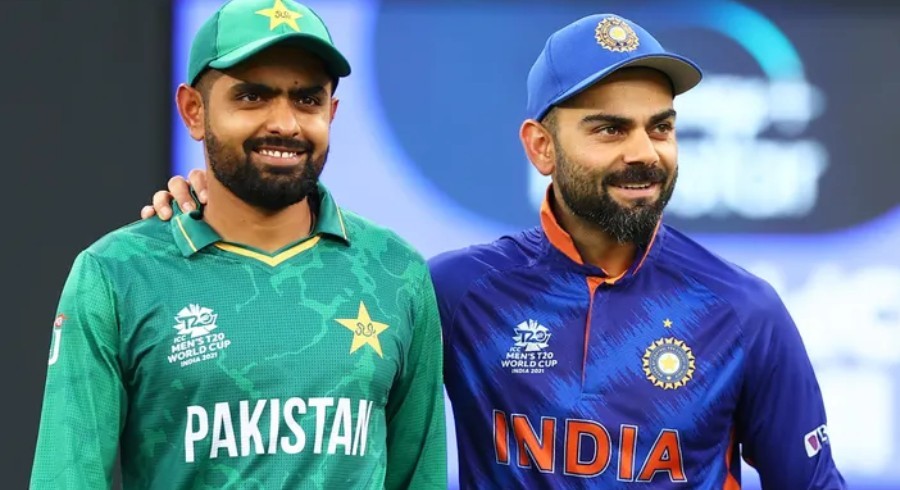 Pakistan skipper Babar Azam was elated at being praised by India star Virat Kohli and detailed the mutual respect that exists between them.
Kohli had conveyed his admiration and recalled his first meeting with Pakistan's star batter Babar Azam in an interaction with Star Sports last year.
"I saw a lot of regard and respect from him from day one, and that hasn't changed. Regardless of the fact he's probably the top batsman in the world across formats, performing so consistently and rightly so. He has amazing talent and I've always enjoyed watching him play.
"So that [Babar's attitude] hasn't changed because he's performing now, and he's coming into his own. I don't see his attitude or approach changing towards me."
Babar reacted to Virat's comments ahead of the Asia Cup on Star Sports, and discussed Virat's influence on his game.
"It feels really good. When someone talks about you like this. And what Kohli has said, has made me very proud and happy.
"Such praise gives you confidence. When I met him in 2019, he was at his peak. He's still at his peak. I wanted to take something from his game. I learnt a lot from him. He gave a detailed explanation to all my questions. That helped me.
"When you do such things for each other, it feels really good."
Both batters have excelled in the ODI format over the years. Babar, whose most recent knock was a match-winning 151 against Nepal, averages 59.47 in the format with 5353 runs to his name. He has 19 ODI hundreds, the second most for Pakistan in the format.
Virat, on the other hand, has 12898 runs at an average of 57.32. He has 46 ODI hundreds to his name, which is the second most in the format's history.
Virat spoke to Star Sports about his love for the ODI game, and why the format has brought the best out of him.
"I love playing ODI cricket. I think ODI cricket is one format which tests your game completely. Your technique, your composure, playing the situation. And playing differently in different phases of the game.
"So I think it tests you as a batsman completely, that's why I feel that ODI cricket has always brought the best out of me, because I like to embrace that challenge, and play according to the situation to help my team win.
"As I said, it provides an opportunity to test myself regularly. All aspects of my batting, and that's why I really enjoy playing ODI cricket."
With the presence of Shaheen Shah Afridi, Haris Rauf, Naseem Shah and Shadab Khan in their attack, Pakistan possess one of the most dangerous attacks in world cricket.
Virat added that he was aware of Pakistan's bowling capabilities, and rated them highly.
"I feel bowling is their strength, and they've got some really impactful bowlers who can change the pace of the game anytime, based on their skill-set. So you have to be at your absolute best to face them."